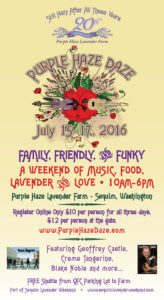 SAVE THE DATE!!!
"PURPLE HAZE DAZE" will take place on the same weekend as the Lavender Festival and Farm Tour which this year is July 15-17, 2016.
Purple Haze Lavender Farm is proud to once again be part of Sequim's Annual Lavender Weekend happenings! This wonderful tradition began with the very first Farm Tour in 1997 when we opened the farm to the public with just one small lavender field.  It has now grown into an international festival with visitors coming from all over the world to share in our celebration of lavender!  We hope you will be able to join us this coming year as we celebrate our 20th year of growing lavender and being part of the amazing weekend!
Purple Haze Daze is the NEW name we have gave to the celebration on OUR farm for Sequim's Lavender Weekend, everything is just the same as it had always been at Purple Haze…. great music, amazing gourmet food and drinks and our creative craft vendors, not to mention all those rows, and rows of scentsational lavender! It is a fabulous 3 day lavender party and last year the sun gods were good to us and brought us some of the best weather we have had in years!
Click on the  links below to see what is happening in 2016!  It's our 20th Anniversary Celebration!  Hope you call can make it!
Cost?:  pre sale: $10.00 per person for all three days….
Day of tickets  (July 15, 16, & 17th): $12.00 ea. good all three days….
Purchase your tickets before July 15th and receive a $5.00 off coupon in our stores for Purple Haze Daze!
 Join us for a fun; funky weekend of music, food, lavender and love!
Hours:  10:00 am-6:00 p.m. all 3 days!
Want to just park once?  We will be offering a FREE shuttle from the QFC Parking lot on the east end of Sequim to our farm and you may also take the FREE in-city shuttle to the Street Fair from there as well!
Pets are always welcome at the farm!-We do ask that you please keep them on a leash at all times and that you please pick up after them!
Culinary Demonstrations 2016 
 by Sunny from The Hidden Alechemist
10:00 am-11:00 am: Lavender Crepes
1:00 pm-2 pm: Lavender Beverages
Would you like to be a volunteer?  This is a great way to support Sequim's lavender and agri-tourism industry!  Being a volunteer at Purple Haze means that not only do you get free access to all of our great music and festivities, but we will also provide you with a T-Shirt and meals!  Kelly Jo Hill is our amazing volunteer coordinator and if you are interested I know that she would be more than happy to find just the right place for your "volunteer talents"  you may contact her at:  360-461-3950.  We would love to have you!
You won't want to miss it! For more details on all the events happening during Sequim's Lavender Weekend and the lavender farms on tour visit www.sequimlavenderweekend.com!
Sequim Lavender Farm Tour Photos
More Info:
Visiting | Gift Shop | Weddings | Lavender Farm Faire | Purple Haze Classes | Vacation Rental