January 30, 2012 by purplehazelavender
Travel through the lavender fields of America in this wonderful new hardcover "coffee table" style book. We are honored to have been included with so many other beautiful farms from around our great country! Pick up a copy today at our online store!
June 22, 2011 by purplehazelavender
While we were waiting for summer to appear, we have been busy improving our lavender oil distillation area. This wonderful structure was built and designed by our friend Patrick and fits in perfectly with the farm. Now rain or shine-distilling will be a more comfortable experience for all! We hope you will join us for the distilling demos Lavender Weekend (July 15, 16 & 17, 2011)! This is a great opportunity to see the still work and get all of your questions answered!
March 4, 2011 by purplehazelavender
This year we have placed the tickets for the farm tours (July 15, 16, & 17, 2011) that happen at Purple Haze Lavender & 6 other farms in Sequim on sale early! We have had many requests to make them available for purchase ONLINE earlier this year! So we did!  Saves time when you get to the farm and you don't need to have the extra cash in hand! Besides that you save $5.00 per person…..children under 12 are still FREE! Come celebrate Purple Haze Lavender's 15th Anniversary!  There is always great music, yummy food and a chair waiting for you!!
November 22, 2010 by purplehazelavender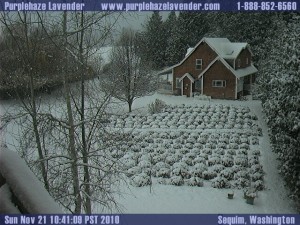 Check out our webcam and enjoy the "lavender snow balls"!
August 4, 2010 by purplehazelavender
The Jasmine Pearl Tea Merchants in Oregon blend our Lavender Teas for us and we thought you might enjoy reading their blog about Lavender Festival at our farm this year! It was so nice to have them back again….we missed them last year!