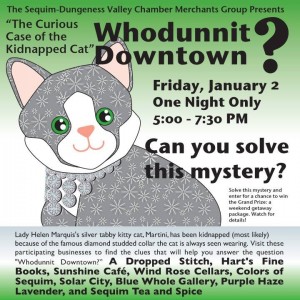 Whodunnit? Purple Haze Lavender's downtown store will be hosting one of the clues for the 3rd annual "Whodunnit?" mystery. This fun adventure takes place January 2cnd throughout the businesses in downtown Sequim from 5:00 pm.-7:30 pm. during our monthly "First Friday Artwalk". Make sure you look for and ask questions of those dressed up in costumes that will be wandering around downtown….they know things…..
The story takes place in the year 1936 right here in Sequim. Dignitaries from across the country have gathered for the dedication of the newly built Clyde Rhodefer Library. The Lady Helen Marquis (Jodi Minker), an eccentric heiress is on hand for the event. She owns a rare silver (stuffed) cat named Martini. The cat is always seen with a diamond studded collar worth thousands of dollars. On the eve of the dedication of the newly built Clyde Rhodefer Library, the cat has been "catnapped". Our story takes place the night of the event. The cat has not been found. The question that must be answered Whodunnit?
The following businesses will each have game cards for playing as well as hosting the clues needed to solve the mystery. We invite you come, play and shop this coming Friday evening-great fun for all ages!
A Dropped Stitch at 136 S 2nd Ave.
Hart's Fine Books at 161 W Washington
Sunshine Café at 145 W Washington St.
Wind Rose Cellars at 143 W Washington St.
Colors of Sequim at 139 W. Washington St.
Solar City's Tesa Boutique & Tanning Retreat at 135 W Washington St.
Blue Whole Gallery at 129 W Washington St.
Purple Haze Lavender at 127 W Washington St.
Pacific Pantry at 229 S Sequim Ave.
Sequim Tea and Spice at 121 W Washington St.
Here is the link to the "Facebook Event" page for more info: https://www.facebook.com/events/672724806178986/?source=1