We love to share our farm with each of you and so we have developed a few classes to give you the opportunity for some hands on learning while visiting us at the farm.
~Herbal Vinegars Class:
Extract the essence of summer leaf and bloom and capture it in a bottle. Flavored vinegars are a must in creative cooking! Learn the basics of creating your own herbal vinegars. Select a bottle, roam the gardens with our instructor for organic herbs, flowers and berries, and create a masterpiece of flavor and color. You will have the chance to make two bottles of vinegar!  These make wonderful and unique gifts for the holidays.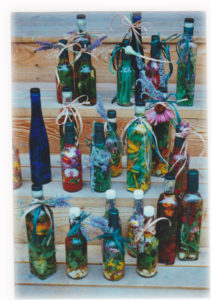 Cost:  $30.00 per person-
Dates: 
TBD
~A Lavender Culinary Experience!  It's a four course meal prepared just for you!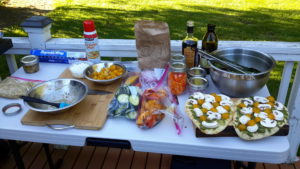 Participants of this savory session can expect Chef Justin to lead you down Purple Haze's Culinary Lavender Lane. Utilizing the various items in our culinary line of products, Justin will prepare and serve a variety of exciting and flavorful dishes. Expect that he will employ our World Champion Mustard, our Award Winning Purple Haze Salad Dressing & Marinade, and our proprietary Herbs de Provence blend. Couple this multi-faceted  meal with a delicious dessert of our eclectic lavender ice cream. Participant should expect to depart from this presentation with a new working knowledge of cooking with the wonderful herb called Lavender. It is our hope that this one of a kind experience, of dining on a lavender farm, combined with the unique flavors of this meal, will linger in your memories and on your palate long after you've left our farm.   Allow approx. 2 hrs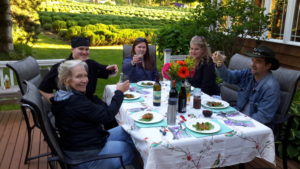 If you wish enjoy a glass of our favorite vintner's wine from
Wind Rose Cellars
, please expect to add $8 per glass.  Payment for wine will be made at time of event.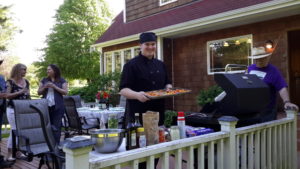 Cost:  $65.00 per person: pre-registration required.
Dates:
TBD
This class does require a minimum of 8 participants with a maximum capacity of 12.  We will happily refund your class fee or see if we can reschedule you for another class should we not reach our minimum.  You will be given 7 days notice if there is a cancellation due to minimum participants not being met.
Cancellation Policy in General:
Should you for some reason not be able to attend the class we do require 14 days notice in order to refund your class fee.  Class fees will NOT be refunded if less than 14 days notice is given.  Please keep in mind that much preparation goes into each class and ingredients must be purchased ahead of time…so if for some reason you cannot attend consider sending someone in your place or consider the possibility of selling your ticket on a site such as Craigs List.