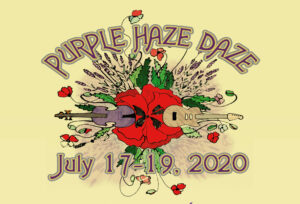 It is with much disappointment that we are having to cancel our Annual Purple Haze Daze Festival.  Due to the information that we are receiving from Washington State DOH it does not look like we are going to be able to hold a large event like this for quite sometime and so we have had to make the hard decision after 24 years to not have our Festival.
The farm will be OPEN for regular hours once we receive permission to do so (looking like June 1st at this point) and we would love to have you come and visit us-unfortunately we just won't be able to have our normal Lavender Party with all of our great musicians and vendors and food!  We do wish you all the best of health and hopefully we can continue our Purple Haze Daze Festival tradition in 2021!
**Those of you who have already purchased tickets for this year event will be receiving a full refund in the next couple of weeks!  Thank you for being such faithful supporters of us!
"PURPLE HAZE DAZE"  takes place on the same weekend as the Lavender Festival and Sequim Lavender Weekend which this year is July 17, 18, & 19, 2020.
Purple Haze Lavender Farm is proud to once again be part of Sequim's Annual Lavender Weekend happenings! This wonderful tradition began with the very first Farm Tour in 1997 when we opened the farm to the public with just one small lavender field.  It has now grown into an international festival with visitors coming from all over the world to share in our celebration of lavender!  We hope you will be able to join us this coming year as we celebrate our 24th year of growing lavender and being part of the amazing weekend!
Purple Haze Daze is the name we have given to the celebration on our farm as we participate in Sequim's Annual Lavender Weekend extravaganza, we have… great music, amazing gourmet food and drinks and our creative craft vendors, not to mention all those rows, and rows of scentsational lavender! It is a fabulous 3 day lavender party and last year the sun gods were good to us again and brought us some of the best weather we have had in years!
Cost to Attend?
(available till 7/16/20 online or at either of our gift shops)
$15.00 per person for all 3 days
DAY OF tickets  (July 17, 18 & 19):
NEW!! 1 day ticket: $12.00
  3 Day Ticket: $18.00
 Join us for a fun & funky weekend of music, food, lavender and love!
Hours:  Friday 10:00 a.m.- end of Creme Tangerine Concert!  (about 7:30), Saturday 10:00 am-6:00 p.m.; Sunday 10:00 am-6:00 p.m.
Want to just park once?  We will be offering a FREE shuttle from the QFC Plaza located at 990 E Washington Street. which is just across the street from the Lavender Festival Street Fair's NEW location at Carrie Blake Park.  Giving you the opportunity to enjoy the park if you like, take our shuttle to our farm or uptown to the farmers market.  You can even catch the shuttle to our farm near our store in downtown Sequim.  This shuttle links with all other shuttles-so if you don't want to drive around-you don't have too!
Shuttle times are Friday 10-7:30 pm, Saturday 10-6:30 pm and Sunday 10-6:00 pm.
Pets are always welcome at the farm!-We do ask that you please keep them on a leash at all times and that you please pick up after them!
Oil Distillation Demo's
Daily 11:30 am
Would you like to be a volunteer?  This is a great way to support Sequim's lavender and agri-tourism industry!  Being a volunteer at Purple Haze means that not only do you get free access to all of our great music and festivities, but we will also provide you with a T-Shirt and meals!  Emerald Keyte is our amazing volunteer coordinator and if you are interested I know that she would be more than happy to find just the right place for your "volunteer talents"  you may contact her at:  206-661-5413 or purplehazevolunteer@outlook.com.  We would love to have your helping hands that weekend!
You won't want to miss it! For more details on all the events happening during Sequim's Lavender Weekend and the lavender farms on tour visit www.sequimlavenderweekend.com!
Sequim Lavender Farm Tour Photos
More Info:
Visiting | Gift Shop | Weddings | Lavender Farm Faire | Purple Haze Classes | Vacation Rental