Purple Haze Salad Dressing makes a great marinade!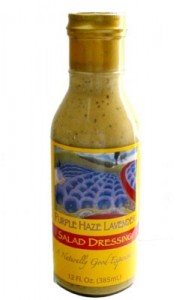 Purple Haze Lavender Salad Dressing is a scrumptious blend of Canola oil, lemon juice, vinegar, tamari, honey, organic lavender, organic herbs and garlic, garlic, garlic….and did you know it makes a great marinade?
Just place your chicken breasts in a bag with as
much Salad Dressing (marinade) as you like for about and hour and then grill on the bar-b-que……yummy!
---