As the owner of Purple Haze I thought it would be a great time to write
about the birds of Purple Haze!  You see, coming up in April is the Olympic Peninsula's
Annual BirdFest.  It' a great time to come enjoy and learn about the birds of the Olympic Peninsula.
There is also a treasure hunt put on by the local merchants called BirdFest-Birdquest which incorporates visiting
the businesses and finding some beautiful bird sculptures created by my son, Jake Reichner's high school ceramic class.
There is even a treasure hunt for the Jr. birders who may be in your group!  Great prizes for all ages and lots of fun!  You won't believe the talented young artists we have!
The Purple Haze Farmhouse is the perfect place to stay while taking in this event and you may even get to do a bit
of "bird watching" at the farm during your stay-here is a sampling of the "Birds of Purple Haze"!
The variety of birds that we see here at the farm everyday is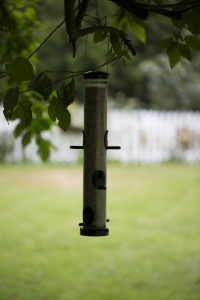 astounding. Maybe it's because we keep dozens of feeders out year
round that does the trick. We feed suet of two kinds, wild bird seed
and a finch mix of sunflower chips, black oil whole sunflowers, an
assortment of wild bird blocks for the ground feeders, a specialty
woodpecker block, and a multitude of hummingbird feeders.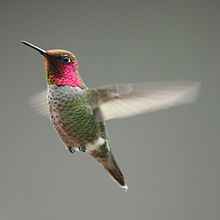 The Anna's Hummingbirds are now staying with us year round and arevery demanding about their feeders. We make sure we keep their nectar feeders topped off rather than have them buzz us as we step on the
back deck. Hummers are one of my favorite birds at the feeder as they really learn to "trust" us humans quickly and will give us "up close and personal" experiences once they get to know us. Just keep thefeeder full!
One of the more populous birds at our feeding stations during thewinter are the Juncos.  Little black headed dudes everywhere just
outside our door pecking at anything that's not tied down. They are
constantly moving and frivolous and will sometimes land on me when I'm
filling the feeders. They're pretty prolific poopers too, so the hose
is out there washing the deck down frequently. Throw the Black Capped
Chickadee into the mix and our feeders are alive with action. Their
distinctive call lets one know that they are near even when they
aren't at the feeder.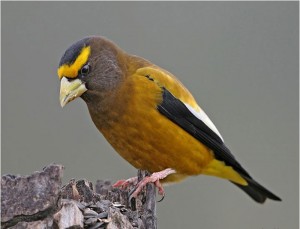 Starting early in February we had a flock of about 20 Evening Grosbeaks
show up and eat their way through our feeders. Talk about an exotic
looking bird! Wow! They always show up as a gang of them; roar through
the feeders unabandoned then out of there like it never happened.
They've been back about every other day now …. I
look forward to their visits.
I started putting finch food out the beginning of February also and "Oh Boy" did the finch family show up.
Dozens of House Finches with a pile of Pine Siskens swarming the feeders. During the summer months it's a circus here at the farm with the clouds of Goldfinches. Most ofour visitors to Purple Haze marvel at the bright colors and darting
nature of our state bird and they sure can eat their way through a
pile of sunflower chips. In the fall, after our sunflowers have
bloomed and gone dormant, they are a descended upon by our Goldfinches
as they bulk up for the upcoming winter. A fun activity is sitting on
the front porch of the Purple Haze Farmhouse and watching the bird
activity as it whirls around you.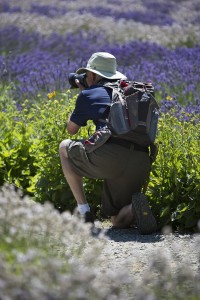 Other birds that frequent our back deck are Rufous Sided Towhees,
White Crowned Sparrows, two pair of Downy Woodpeckers, Robins by the
dozen, Red Wing Blackbirds, the evil starlings, Eurasion Collared
doves, Stellar Jays, maybe 5 coveys of California Quail that rush in
from every corner of the farm, (always running, never flying), and a
pair of mallards that are thinking of brooding on our pond. They
waddle their way up the hundred of yards or so from the pond and eat
daily at the feeders. Their plumage is so brilliant now with the
upcoming mating season.
Every now and then a predator roars in and takes a bite…sorry;
called a food chain. But this past month we have observed Red Tail
Hawks, and Marsh Hawks and Sparrow Hawks all taking a swipe at our
feeder station, we had what I believe to be a juvenile Goshawk, swoop
in and land on our back deck within 4 feet of our back door. I wish I
had better camera at hand as it was a gorgeous opportunity at that
distance. And then he proceeded to do it several days in a row. We
never were able to get a good pic. But Boy, are the opportunities out
there.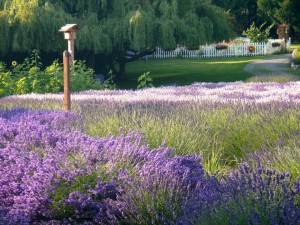 We've had Bald Eagles take chickens from our coop; walk around the
corner and there he is with one of our egg layers in his talons having
claimed his dinner for the day. How can one argue with that???..He's 4
foot tall and BALD!!  This is why the chicken coop is now covered!
The birds here at Purple Haze are amazing! We feed them, we enjoy
them, we embrace who they are and what they provide us with. We love
our birds. Take them in. Enjoy them with us.