February 7, 2014 by purplehazelavender
The NEW Eat and Explore Washington Cookbook has just been released and it is awesome!
Not only is it filled with wonderful and tempting recipes from all over the state (home to the World Champion Seahawks-yes the 12th man is very proud and loud at Purple Haze! Go Hawks!!) but it also has information about each of the places the featured recipes are from.
Makes a great gift for any cookbook collector and would actually be a fun way to help plan your summer vacation here in Washington State!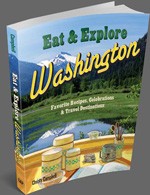 You may pick up a copy in our online store!
January 30, 2014 by purplehazelavender
Check out this great postcard that Bills Plumbing sent out to all of their customers! For those of you who have joined us for Lavender Weekend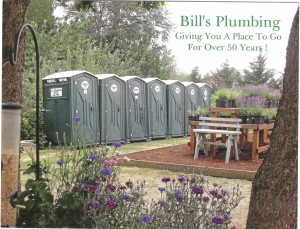 at Purple Haze you know exactly where this was taken!  And just how important it is to have them!
January 30, 2012 by purplehazelavender
Travel through the lavender fields of America in this wonderful new hardcover "coffee table" style book. We are honored to have been included with so many other beautiful farms from around our great country! Pick up a copy today at our online store!
March 4, 2011 by purplehazelavender
This year we have placed the tickets for the farm tours (July 15, 16, & 17, 2011) that happen at Purple Haze Lavender & 6 other farms in Sequim on sale early! We have had many requests to make them available for purchase ONLINE earlier this year! So we did!  Saves time when you get to the farm and you don't need to have the extra cash in hand! Besides that you save $5.00 per person…..children under 12 are still FREE! Come celebrate Purple Haze Lavender's 15th Anniversary!  There is always great music, yummy food and a chair waiting for you!!
February 24, 2011 by purplehazelavender
There were so many people who loved this artists work two years ago that the Sequim Lavender Farmers thought it would be great to choose her again! Here is the link to the article in our local paper the Sequim Gazette.
We hope everyone is making their plans for July 15, 16 & 17 to join us at Purple Haze Lavender Farm. Not only to enjoy all the great entertainment, food and unique vendors, but to come and help us celebrate our 15th Anniversary! Due to the fact that we have snow on the ground today- we can't wait for summer and those beautiful rows and rows of lavender! We hope to see you July 15, 16 & 17 for lavender weekend in Sequim!
September 14, 2009 by purplehazelavender
We encourage you to come and enjoy this great Olympic Peninsula Festival, September 25th-27th, 2009……Help celebrate the watershed that keeps the Sequim-Dungeness Valley alive. There will be activities for kids and adults, music, art, food, and much more.  KING FM radio station 98.1 is doing a special giveaway….Prize package includes a 2 night stay at the Quality Inn's hot-tub suite, dinner for two at Alder Wood Bistro, dinner for two at The Sauer Kraut, tickets to a Neil Simon comedy, 'Same Time Next Year' for Saturday night, Sept. 26th at Olympic Theatre Arts, and gift certificates from Purple Haze Lavender Farm and Nash's Organic Produce.
February 12, 2009 by purplehazelavender
Just as the winter doldrums are setting in…do something that is gonna make you feel light again! Start planning a spring or summer vacation. Our Sequim vacation rental is available year-round and it is the perfect place to escape with your friends or family once our lavender starts blooming and the fields are perfumed with lovely, organic produce. We have a large porch with comfortable Adirondack chairs and a swinging bench.
Or, if the long nights of summer just seem too far away, why don't make your escape right now!? Get a couple friends together and come to the Olympic Peninsula for some astounding beauty, delicious food
around town, endless trails through the forest and along the beach and maybe a little time in the steam room? Being in the steam room at our vacation rental is almost like being in the tropics!
At $275 a night (with a 2 night minimum), that ends up being an affordable way for a group of girlfriends, buddies or a family to get together for some R&R in front of our flat screen TV or in the luxurious hot tub.
Hope to see you soon!
December 5, 2008 by purplehazelavender
Did you know that Purple Haze Lavender has a most beautiful vacation rental house? Have you ever wanted to invite all your friends from Seattle up to beautiful Sequim? Or maybe you want to get away from it all with your friends, but you don't want to deal with the cost of seven different hotel rooms? Our Sequim vacation rentals is the answer! We have lots of space, tons of amenities, and a scenic surrounding that is hard to beat.
When it comes to Washington Vacation Rentals, it is hard to imagine a more diverse location than here in the Dungeness Valley. Here in Sequim, you are 15 minutes from the sea and 10 minutes from the Dungeness river. Less than an hour away is Hurricane Ridge, which has amazing vistas and hiking trails as well as a snow park in the winter.
Read the rest of this page »