The NEW Eat and Explore Washington Cookbook has just been released and it is awesome!
Not only is it filled with wonderful and tempting recipes from all over the state (home to the World Champion Seahawks-yes the 12th man is very proud and loud at Purple Haze! Go Hawks!!) but it also has information about each of the places the featured recipes are from.
Makes a great gift for any cookbook collector and would actually be a fun way to help plan your summer vacation here in Washington State!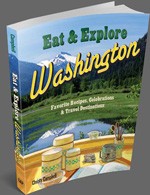 You may pick up a copy in our online store!